I finally received my 6th Island bracelet, to complete the set of bracelets from each of the islands we have cycled so far – Sumatra, Java, Bali, Lombok, Sumbawa and Flores .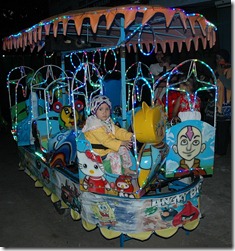 It was hard work; I had to climb 6646m from sea level (Labuan Bajo) to sea level (Ende) to complete my mission! In Ende I eventually went out with Gerald to inspect the top attraction of the town, a small, battery powered, portable carousel with two young kids riding proud their carts.  On the way back we stopped at a small shop with all kind of 'Chinese jewelry' and lots of wooden statues, batik and other  things. There were a few items, that looked nice and different than the Chinese 'plastic art'. Nobody was in the shop so we called for assistance. Two young girls were obviously attracted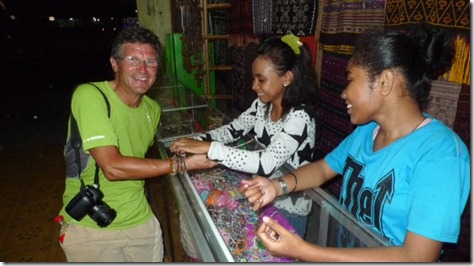 by the strange male voices and came over from the associated house. Very shy they entered the shop to find us two. A few words exchanged and I was 'engaged' with Sri, when she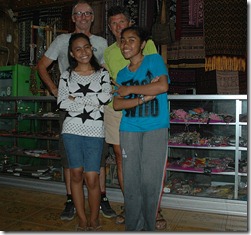 tied the bracelet to my wrist, amusedly watched by her friend Isra. To me it is always a surprise how relaxed and open minded everything is in this country and how easy you make contact and friends. A few words Bahasa Indonesia combined with English and all doors are wide open. After a final group photo Gerald and I were back out into the darkness to return to our hotel.
Tweet ##transoceania