On the first day on the Great Ocean Road I spent 2.5 hours in the Tower Hill State Game Reserve, which sits inside an extinct volcano formed some 30,000 years ago, and was declared Victoria's first National Park in 1892.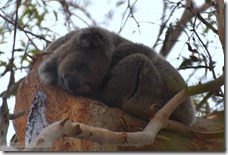 I arrived at around 7am and was the only person so far in the park. Undisturbed wildlife welcomed me! Usually when a group of cyclist (or any group) is in the wilderness, there is too much noise and talks, and the animals disappear before even seen by us. So I was lucky to have it all for myself – the kangaroos and emus next to the road, the koalas sleeping in the eucalyptus trees. I had to wait a long time, before they slowly woke up and climbed down from their sleeping branches.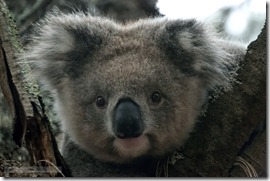 What a fun scene to watch them climbing down backwards, leaping from on branch to the other, or walking and running on the ground. These koalas are the most adoring animals I've seen so far. They seem to watch me with the same curiosity as I watched them. I was lucky to carry a second 64GB memory card with me, as I quickly run out of disk space. I didn't want to leave them, but after 2 hours I had to go, and with the first arriving tourists they also climbed higher into the trees,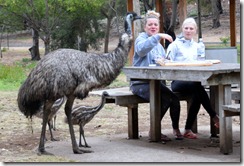 making it more difficult to see them. 2 German students were having breakfast at the rest place, closely monitored by an emu with her kids. There are many hiking trails around the lakes, especially for bird watching. I added time to walk a loop road in the dense forest. Eventually I left my 'little Australian Ngorngoro' with a final look over the rim into the crater and the surrounding ocean.

Here is a collection of photos taken in the crater park
Tweet ##transoceania