Sarangan

to Tulungagung
Date:
23-09-2014
Time:

06:33 h

Σ Time:
157:57 h
Distance:
126 km
Σ km:
3109 km
Temp:
16/34 °C
Up:
1670 m
Σ Up:
36605 m
Calories:
3385 kcal
Down:
2794 m
Σ Down:
35845 m
Σ kcal:
74259 kcal
Conditions:
Another 'climber' with 2 rewarding downhills. Roads partially bad, especially in the 2nd part up and down. Very scenic and a totally different Java than before.
125 km and 1700 m climbs sounded doable. Even after an 'energy-eater' like yesterday. However it turned out to be another of these stages for which the scout injected extra spices.
I had a late start, and was the last rider out from the hotel, taking early morning sunlight photos of the surrounding mountains. So I was riding with Chelsea and Henry and had many more stop on the fast 1000m downhill. The air was so clean and clear and the sunlight perfect for photos. Java in this area is so different, different topology, vegetation and less dense populated. It reminded me of some parts in Africa, like Zambia, where you could ride for hours without seeing a human. I did not recognize how much time passed, dreaming into the day. It was not until km 50 before I caught up with Dara. A quick Coke stop and off I was on my own. Climbing started at 60 km. Although very smooth (max 3%) it was a tough 12 km to lunch. Strong head and cross wind and higher temperatures slowed down progress. And the steep climbs were to come after lunch. Hurrah, again potatoes and eggs for lunch. I stocked up with Coke at the first fridge in town. The first of 3 major hills was around the corner, each 200m to ascend on just 2km, means an average of 10% for 6km. Well, in the meantime we know, that 10% average means 25% at peek. The Javanese did obviously cut these roads into the mountains prior of the birth of the smart guy who invented the switchback roads! They look more like skiing tracks than cycling roads. Nevertheless, there was no option than to get over them. Andreas was waiting for me on the 2nd climb. He was the afternoon 'sweep' and was in the van until it passed me, because after me no one else continued cycling. So I had company for the rest of the day, which turned out to be a good one, especially during the final 800m downhill, as Andreas has exactly the same fun I racing on rough roads and around sharp corners. On the steepest part of the 2nd climb I had to get off the bike and walk. It was just too steep and my speed too slow to maintain a controlled ascent. The ride on the ridge was a treat. The villages built into the mountain, the lush vegetation and a bit of a drizzle from the upcoming clouds. Between the 2nd and the 3rd climb were approximately 4km of flat or downhill. Good, bad and none existing pavement made riding an all time concentration game. Trucks or motorcycles could 'ambush' you in every corner, means usually cutting corner, leaving not much space to pass. At 100 km we reached the top of the last ascend and were ready to 'free fall' into the valley. We could have used parachutes to fly down, but decided to ride it to our fun. My Garmin later told me it was my quickest 40 km ever; the last 25 km was 800 m downhill and a high speed chase. Reception in the Crown Victoria Hotel was exceptional. Too bad, that it is only for a night and I couldn't use the Gym with the stationary bicycles. However I found the first scales in the country and took my weight before I had a real good dinner.
After dinner I had to change a tire, which was more-or-less destroyed on the sharp gravel today.
Tonight's rider briefing disclosed another tough climbing day tomorrow. Who would have thought different?!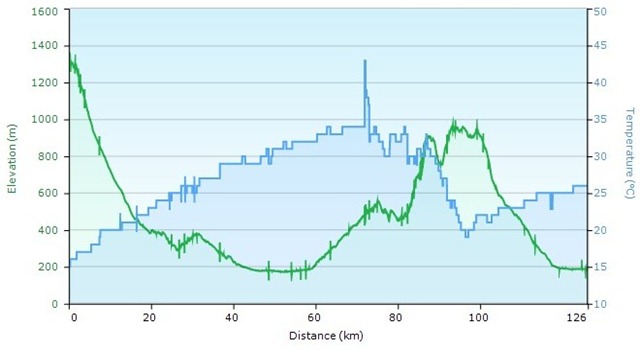 Tweet ##transoceania