I stopped at a big ceremony along the village road. I think the whole village was around and celebrating a wedding. Before I could really
recognize what it actually was, I was surrounded by kids, men & women. Old and young wanted to take a photo with me. I guess, meanwhile I am one of the most 'recorded' foreigner in this country. However, I always get a chance to take my photos, too. It is still no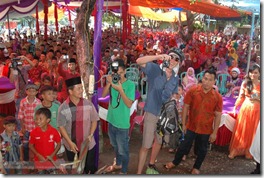 problem, to just hand out my big Nikon DLR to a local, quickly explain how to operate, and there you are. No fear that my camera or anything will disappear. Imagine this in some parts of Africa or Europe … no chance to 'dive' into a crowd like this, without being pick-pocket.
After the photo shootings I was asked into the tent and on stage to greet the young couple. They really looked young, probably much younger as they are. Andreas, today's sweep,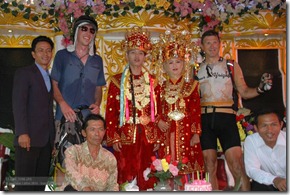 has already arrived and happily joined the party. We were treated with cake and drinks and many warm welcomes. We couldn't leave without being brought back on stage and dance to the excitement of the other guests.
Tweet ##transoceania