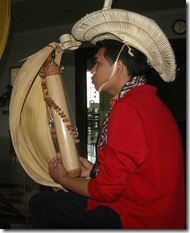 Today we arrived in Kupang on Timor, the 7th island of our cycling and island hopping trip and the last Indonesian, before heading to Australia. After a short flight from Ende on Flores and a 8 km taxi drive from the airport into town, we were warmly welcomed at the Sasando International Hotel with music on the traditional Sasando instrument and a very nice banner, honoring our extremely long trip from Medan to Sydney.

Now I have a problem to explain to my employer and followers, why I need a 4 months leave to cycle the gigantic 11km from Medan, a new suburb of Sidney, into the town.

Lets phrase it different. Good Job Cristiano! My odometer already shows 5300km at not even halftime of the full tour. You proved to be the master of making a probably short and easy trip a giant monster.
Looking forward to find out how you turned the final 6 km from here to Sydney into another long and man-eating 6000km monster stretch.

Tweet ##transoceania