Today, the second to last day in the outback, I had the luck to finally spot a group of big red kangaroos. Riding solo again I had the time and opportunity to deviate from the road, when I wanted to.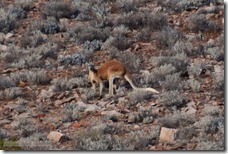 I had to walk about 1 km into the bushes to find and follow them. I was walking into the fields away from Stuart Highway, to get a better view of the salt lake this morning, when I recognized a movement ahead of me. I just saw a bouncing long tail disappearing into a valley and followed it. I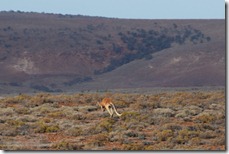 readied my camera and followed the 'tail', when I spotted a big 'rock' on the other side of the small valley, in front of me. My zoom lens revealed the 'rock' was another kangaroo. Soon there where 4 of them ahead of me. I continued to follow them, funny to see them hopping away whenever I moved, then stopping and curiously watching my next step, when I stopped, too.
This continued for quite a while. I made a step, they jumped ahead. I watched them equally amused as they watched me. Eventually the kangaroos disappeared in the horizon, as if they were diving into the white, salty lake.
My extra walk and time spent paid off. I had my photos and an awesome experience, no other in the group had, as everyone was just riding into the wind and to next camp.
<placeholder for a video I shot>
Tweet ##transoceania