Nerringa

to Bulli Beach
Date:
12-18-2014
Time:
6:35 h
Σ Time:
512:31 h
Distance:
161 km
Σ km:
10899 km
Temp:
10/33°C
Up:
846 m
Σ Up:
91608 m
Down:
1412 m
Calories:
2907 kcal
Σ kcal:
230511 kcal
Conditions:
Cloudy and cold in the morning, getting warmer in the afternoon, getting back to the sea.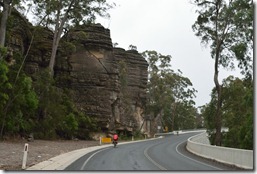 We are leaving the hills of the Snowy Mountain region and eventually 'dive' back down to sea level again. However not before having a final short, but steep ascent through some stunning rock formations. Eric, didn't want to ride with us again today, he needs to race again, to warm up for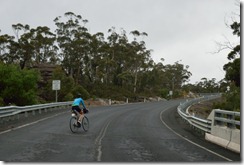 the final. So I was in charge to make the pace for myself and Lydia. Only a few kilometers into the day, Lydia spotted a baby Magpie next to the road in the grass and asked to stop. The poor creature had obviously fallen off its nest, but was unhurt. It would not survive so what todo? We can't leave th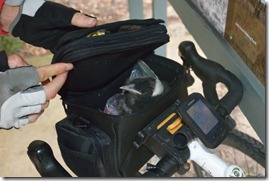 e little 'cotton ball' to its destiny. Another one was unfortunately already dead. So we emptied Lydia's handle bar bag – you won't believe how much chocolate it can hold! – to carry the fluffy bird until we find a place where it is being taken care of. With the bird in Lydia's bag and me carrying additional ~5kg of her chocolate and energy bars in my backpack we continued the long ride. It was not before another 60 kilometers before we would ride into the next town, Norwa. The little one obviously enjoyed the ride in the bag. Like human babies, it fell asleep shortly after we were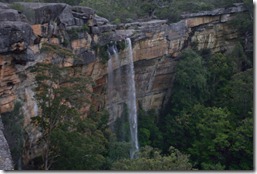 in motion. We only stopped once to take photos at a lookout with a waterfall going over a deep drop off. Reaching Norwa we went straight to look for the Wildlife Rescue Service, which we googled on the way. Unfortunately it was only a postal address, but on the phone they advised us to leave the bird with a Vet in town, for them to pick up. So we handed it over to a nice assistant. Thereafter we could join some of our fellow riders, who already had their second breakfast in a Café in town.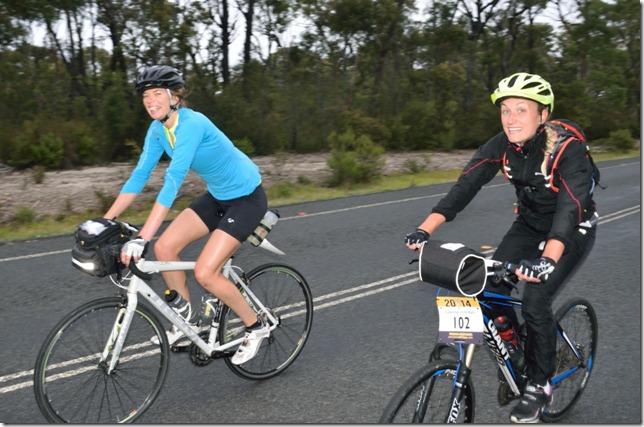 It was a long cycling day and because of the high and dangerously dense and fast traffic on the Princess Highway, we were to take a short train ride to skip the most busy part of the highway. We met Eric again at the train station. He was unlucky to find an alternative to riding the train. He should have listened to Andreas the night before at the riders meeting, when he explained, that it would mean to carry the bicycle along the beach and through swamps, which was not recommended by experienced local cyclists. After a short ride on a train five of us continued the final 45 kilometer to Bulli Beach, the others stayed on the train until to the camp. The continuation of the ride was most of the time on nice bike paths and along the coast line. After being delayed by fixing a hopefully the last puncture of the tour on Lydia's bike, we reached camp past 5pm. It was probably the longest cycling day for Eric of the whole trip.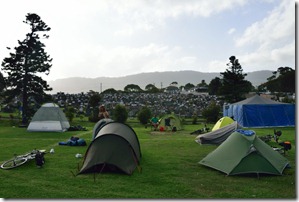 Today is the last camp night of the trip, with only Eric and myself being ENT (Every Night Tenting), all others preferred the comfort of a 'cabin' or hotel room, whenever possible . Our camp is located between the ocean and a huge cemetery! What an outlook!
The next day will lead us to Sydney, were we will finally end up in a hotel and real beds. Although time was short to dinner, I wanted to have a swim in the ocean. As a 'gentlemen whom I am' I helped Lydia with my tent and did not insist for her to fulfill her pool game loss duty on her own. The day faded out with Eric, Lydia and me sharing a bottle of wine at the beach. With only one short cycling day left we went to a final rest in our tents.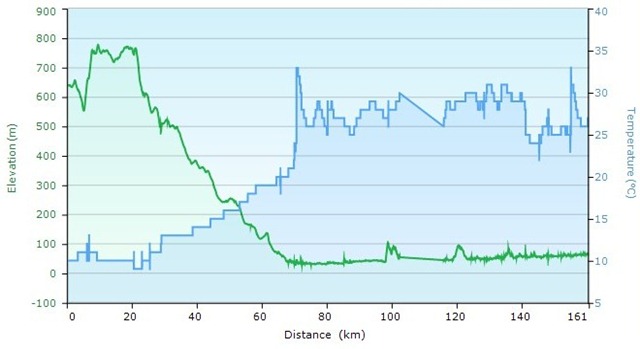 Tweet ##transoceania