Canberra

to Nerringa
Date:
12-17-2014
Time:
5:22 h
Σ Time:
505:55 h
Distance:
120 km
Σ km:
10738 km
Temp:
11/26°C
Up:
1211 m
Σ Up:
90762 m
Down:
1202 m
Calories:
2341 kcal
Σ kcal:
227604 kcal
Conditions:
Wind and hilly. The last 'bush camp' of the tour.
The final 3 riding days to Sydney have begun. Too sad, that Gerald had to leave the tour in Canberra and couldn't continue to ride with us to Sydney.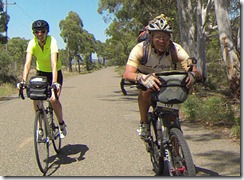 It was windy this morning out of Canberra. The wind already picked up the day before and changed its direction. Instead of being pushed, we are heading a long time into it. Eric wanted to ride with us today. However, he was going a bit too fast for me, considering the amount of climbs and the very long distance to follow tomorrow. However, I could convince him to not push us to hard and ease the day for us. So he switched into
a kind of hibernation mode, investing just enough energy to not fall asleep on his bike. We had a fabulous day together riding through the hilly country side. We left and reentered ACT twice to NSW before we finally remained in NSW. The route contained several steep climbs and beautiful rivers to cross on wooden bridges. Some take it slower with less risk, others ignore the warning to be careful and …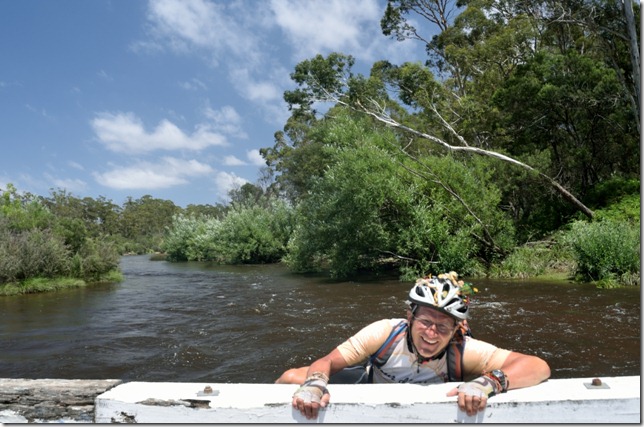 Nerringa is more or less only the local 'hotel', which does not have rooms to rent, but a good pub, beer garden and food. The shower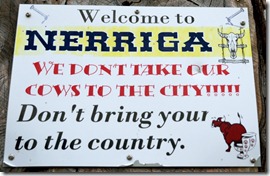 was the usual 'bottle shower' that you will have to use in the bush. The campground was the lawn behind the beer garden, with chickens and a turkey running around – and there were still running around the next morning, and didn't make it into one of Mark's pots for the dinner!
The weather was nice during the day, but with the setting sun it turned really cold. Leaving the pub I felt very cold and tired and left seeking shelter in my tent, to avoid getting a cold. I fell asleep over reading my book and if Eric hadn't missed me at dinner, I would have missed it, warmly cuddled into my sleeping back.
Today Lydia challenged me for a pool match while I was waiting for my devices to be charged in the pub. And she didn't want to play just for fun. So it was decided that the loser of the match was due to pack the other's tent the next morning. She was very confident in her pool skills, because winning would mean, that she wouldn't have to struggle for 15 minutes as usual, to pack up. And she was quite good, or just lucky? The victory was hers and I had to set my alarm for 10 minutes earlier, to have enough time to pack tents for both of us. Nevertheless of my disastrous defeat, I asked for a second game. This time the winner would get tent pitching service in the next camp. I was soon 4 balls ahead of Lydia, when she started her hunt for the win. With a bit of luck I pocketed the black ball just in time when she had only one more of her colors left. Yeah, an unexpected victory, I would be able to ride straight into the pub in Bulli Beach the next day, as my tent will be made ready for me when I get to camp at night!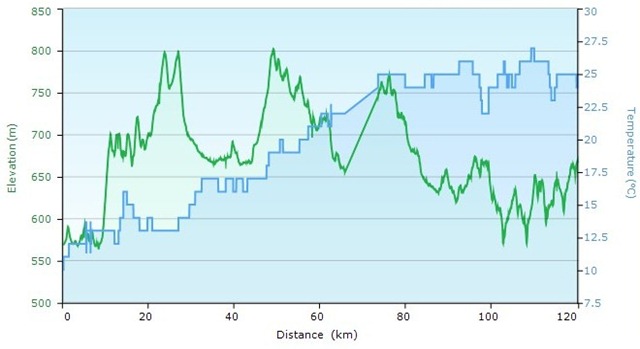 Tweet ##transoceania