Ketapang

to Lovina (Bali)
Date:
29-09-2014
Time:

03:09 h

Σ Time:
185:40 h
Distance:
84 km
Σ km:
3650 km
Temp:
20/37 °C
Up:
353 m
Σ Up:
43924 m
Calories:
1707 kcal
Down:
348 m
Σ Down:
43117 m
Σ kcal:
86983 kcal
Conditions:
This was a fast and easy cycling day. Short ride to ferry port, short ferry ride to Bali. Flat cycling along the northern coast line, with nice tail wind.
Bali is 1 hour ahead of Java so we had to adjust our watches.
Finally an enjoyable cycling day for those, who don't like excessive climbing. We all made it onto the 7am ferry that set us over to our 3rd island – Bali, home for 3 cycling days plus 1 rest day in Ubud. Compared to all other riders, I was not in a hurry, although we had to be in the next destination at around 1pm, because we all had to go to the immigration office to extend our Indonesian visa for additional 30 days. I took my time to stop here and there, as Bali is totally different to Sumatra and Java and we won't stay long on this little island. Although we lost 1 hour due to the time switch, there were still more than 4 hours time to cover for the remaining 78 km. Still a pity, that there was a deadline set, so the options to break away from the route had to be chosen wisely, as I already felt Henry's breath in my neck. He was the TdA sweep today and took care that everyone made it in time or got on the van. So I had to really make speed between my various stops, to keep him in distance. I wanted to go to the beach and a dive base, as I haven't been in this part of Bali, yet. I knew there was a 'Werner Lau' dive base in this area and luckily I found it. Off the road and down on a bumpy, rocky gravel road to the shore. Now I had a photo session, to document my appearance. A local dive guide was very interested about my adventure. He was a cycling tour guide on Bali, too and wanted to know more about my trip. I finally took a refreshing 'shower' at the dive center before I returned onto the main road. At lunch I was still ahead of Henry, but the lunch site was already 'closing', to make it also to camp in time. Nevertheless, I got my share of food and water and left with Henry shortly after 11am, with 2 hours left for the final 45 km. Andreas asked us to make it to the hotel not later than 1:15pm, as the vans to the 'passport session' will have to leave at 1:30pm. 'Time to race', I thought, and announced to be able to ride an average of 30km/h. I made it to the hotel by 12:45pm, even with a coke stop and a photo/video stop with monkeys. 500m from the hotel I stopped again a t an IndoMart to get daily my 'Magnum' ice cream, which I deliciously ate, while riding to the reception. The hotel is a very large complex, my bag was transported on a golf cart, I followed on bicycle. Since my room was not yet ready I continued onward on my bike, straight to the pool and around to the beach and finished my ice cream. Thereafter I jumped into my swim suite and chilled out in the pool and the ocean. I am finally back to paradise, although only for 1 afternoon.
Tomorrow is the final riding day of the 3rd section 'Volcanoes & Temple'. The rest day location – Ubud- is behind a volcano, which means, we are back into climbing mode.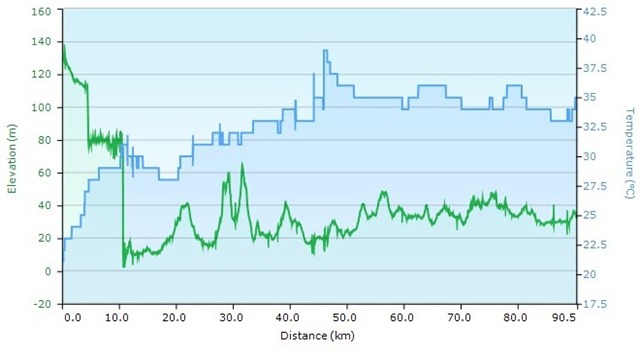 Tweet ##transoceania